Fenway
Porchfest
Introducing …(LOVE THAT) MUDDY RIVER
A Music Video in Celebration of Fenway Porchfest 2020
Produced by: Fenway Civic Association, Fenway Alliance, and the Fenway Community Development Corporation
Music Producing & Editing: Eva Sita
Video Producing & Editing: Red Shaydez
Musicians: Lanky & the Fens, Jillian Ann, Eva Sita, Bill Dwyer Band, JP Honk Band, and Red Shaydez
Fenway Porchfest is a collaboration between three Fenway non-profit organizations: Fenway Alliance, Fenway Civic Association, and the Fenway Community Development Corporation.
Since 2018, this collaboration has brought Fenway Porchfest to the Fenway neighborhood each June. This year, due to the Coronavirus pandemic, and city and state government restriction around in-person gatherings, the 3rd annual Fenway Porchfest has had to adjust course for 2020 with a new creative twist, keeping the event's spirit alive and well.
To honor Fenway Porchfest 2020, and to celebrate our musicians, site partners, and the Fenway community -- we have partnered with Porchfest musical collaborators on an exciting Fenway Porchfest Music Video. It was our intention to showcase what makes the Fenway neighborhood so special.
Our deepest thanks to the musician collaborators who worked with us to bring this project to fruition. In particular, we want to thank our producing partners - Eva Sita, Red Shaydez and International Show for all of their work on this project -- we could not have pulled it off without their enthusiasm and expertise.
We also want to thank all of our site partners, our generous sponsors, and of course all the wonderful musicians that give so freely of their time, efforts and musical creativity over the last 3 years of Fenway Porchfest!
The vision for Fenway Porchfest promotes the connection of residents and the arts, highlights the special spaces and partners in our community, and showcases talented artists that live and perform in our neighborhood and across the city. We encourage everyone to continue YOUR support for the Fenway and the arts during uncertain times – make sure to read about our partners and sponsors and to visit our musician links.
Musician and Artists Bios:
Red Shaydez (Musician & Video Producer): Red Shaydez is a multi-faceted, boxer robe-wearing, bully of a hip-hop artist and the queen of cool. Her lyrical prowess leaves nothing standing in its wake. She has a track record to prove that she is not only next but is now: the Boston-born lyricist, filmmaker, public speaker, and mentor has been featured on MTV, Fox 25 News, Hot 96.9 FM and more! She was also nominated for "Unsigned Artist of the Year" at the 2019 Boston Music Awards. Gearing up for the release of her new album "Feel The Aura", Shaydez plans to create an impact across the world. ChillinInTheShade.com
Eva Sita ( Musician & Music Producer ) : Eva really discovered music in 2004 when she moved to Paris as an Ivorian war refugee. She started producing beats at ten years old, for fun, but never thought that she would be making a living through music someday. Indeed she struggled a lot with self-confidence, abuse, post-traumatic symptoms, and depression. She couldn't picture herself under the spotlight back then so she pursued literary studies and signed up for college in Paris.
After a traumatic family event, Eva Sita (pronounced "Ava Sita") dropped out of college and left Paris. Going back to Abidjan, she decided to give music a chance, and quickly got discovered and was featured in several West African media outlets (magazines, radio show and TV ). Classically trained on the piano and the kora (a traditional African string instrument), Eva decided to take her musical career further and auditioned for the Berklee College of Music in Boston. She is now the first Ivorian woman in history to graduate from this prestigious college. Since then, Eva has pursued her studies, received the first award of her career, and performed in Latin America, Europe, Africa and all over the US.
Currently, Eva is writing and recording new music. Click on the following link to keep up with her on social medias or listen to her music -> https://linktr.ee/eva_sita
David Lank (Lanky & the Fens): Lanky and the Fens is a live music collective based outa Boston's Back Bay Fens specializing exclusively in well-performed, good music. The Fens lineup revolves down a bench of carefully selected show-specific players around bandleader, David "Lanky" Lank. The band was recently rated FEN on a scale of one to Fen. www.Lankyandthefens.com
Jillian Ann: Jillian Ann is a Boston native singer-songwriter, performer, and recent graduate of the prestigious Berklee College of Music. She has created a catalog of music that transcends a variety of genres, and has been compared to the likes of 70s singer/songwriter icons Carly Simon and Kate Bush. She has an ethereal tone to her voice that is unmistakable and has headlined at popular Boston music venues that include Hard Rock Cafe, the Middle East Restaurant and Nightclub, and various venues on the Berklee campus. Her debut EP, "Truly, Madly, Deeply" , showcases her raw and pure talent, with the essence of her greatest influences, and the lyrics in each song tell compelling stories that will leave you breathless and longing for more. https://www.jillianannmusic.com/
JP Honk Band: JP Honk is a community / activist band based in Jamaica Plain. We are an open group playing HONK-style NOLA-influenced Street Band tunes. jphonkband.org Facebook: facebook.com/JPHonkBand/
Bill Dwyer / Bill Dwyer Band: Bill Dwyer Band is a 3 piece that plays with heart, passion & soul. If you like CCR, Nirvana, Ray Charles & Springsteen, you'll enjoy BDB. www.Billdwyerband.com
A partnership of Fenway Civic Association, Fenway Alliance
and the Fenway Community Development Corporation
COVID-19 UPDATE
We are continuing to monitor conditions related to the COVID crisis, and with input from local representatives, we have decided to postpone 2020's live event.
Please follow us on social media FACEBOOK and/or INSTAGRAM for the latest updates.
If you have any questions or are interested in sponsorship, please reach out.
We are very much looking forward to coming together for a "live" Fenway Porchfest in 2021!
- THE FENWAY PORCHFEST TEAM
For all those musicians who may be in need of additional support at this time, we have compiled a list resources below:
MUSICIANS & ARTISTS COVID-19 RESOURCES
Boston Artists Relief Fund
Massachusetts Cultural Council
General Musicians & Artists Relief Funds:
Follow all Instagram feeds of Brain Arts Org for Hyper Local Boston Artist Support:
Brain_Arts_ORG
Boston Hassle
Dorchester Art Project
BAMS FEST
FREELANCE ARTISTS RESOURCES
[NATIONAL ORG]
Thank You!
2019 video
Video - Sarah Rathje / Photographer - Sophie Park / Musician - Niko Rivers, Backroads
2019 Map and Schedule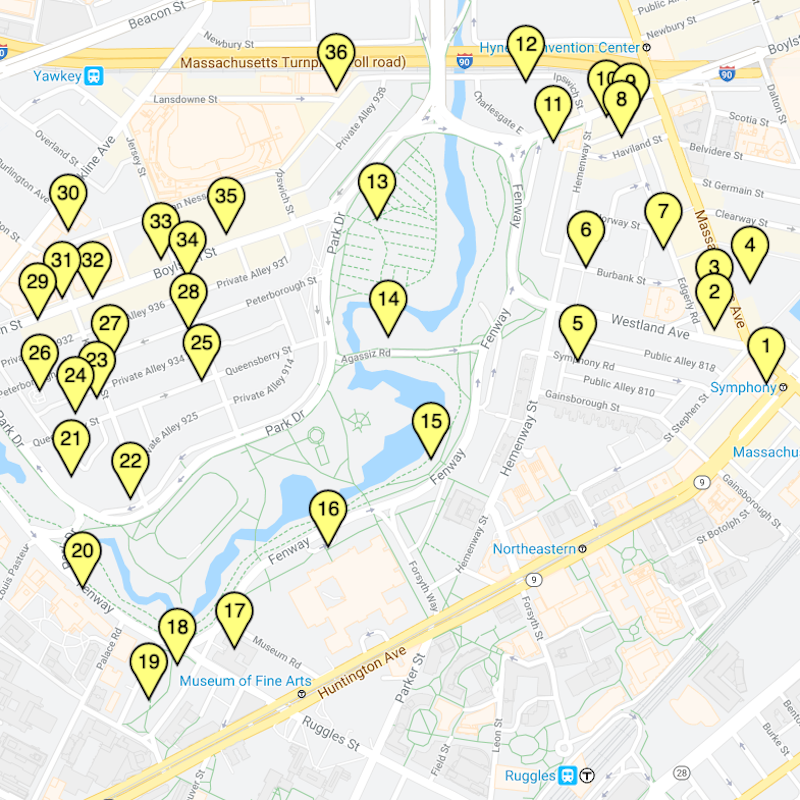 12pm
1:30pm
3pm
12pm
1:30pm
3pm
1
Boston Symphony Hall
301 Massachusetts Avenue
2
Caffe Nero
114 Edgerly Rd
3
Church Park Breezeway
279 Mass Ave
4
The First Church of Christ, Scientist
250 Mass Ave
5
Symphony Road Community Gardens
52-72 Symphony Rd
6
Forest Properties
72 Burbank St
7
Symphony Community Park
39 Edgerly Road
8
Berklee College of Music
7 Haviland St
9
Berklee College Bookstore
1090 Boylston St
10
The Bebop
1116 Boylston Street
11
Mass Historical Society
1154 Boylston St
12
Fenway Studios
30 Ipswich St
13
Fenway Victory Gardens
1200 Boylston St
14
Fens Duck House
40 Agassiz Rd
15
ENC Visitor Center
125 The Fenway
16
Museum of Fine Arts
Fenway Entrance
18
Evans Way Park (North)
244-256 The Fenway
19
Evans Way Park (South)
244-256 The Fenway
20
Simmons University
300 Fenway
22
Holy Trinity Orthodox Cathedral
165 Park Dr
23
Tapestry
69 Kilmarnock St
24
105 Queensberry St
105 Queensberry St
25
King of Records
48 Queensberry
26
Ramler Park
130 Peterborough St
27
Neighborhoods Coffee and Crepes
96 Peterborough St
28
Boston Temple
105 Jersey Street
29
Star Market
33 Kilmarnock St
30
Marshalls
Van Ness Entrance
31
Tiger Mama
1363 Boylston St
32
The Harlo
1350 Boylston St
33
Tasty Burger
1301 Boylston St
34
Fenway Community Center
1282 Boylston St
35
The Verb Hotel
1271 Boylston St
36
Loretta's Last Call
1 Landsdowne Street
Desperate Measures Street Band
Jim McKenna Uilleann Pipes
Matt and the Skeleton Crew
Caleb Nathan + FamBamClan
Alex McCue & The Group Activity
Elizabeth Buckley / Susie McCarthy / Alli Zeoli
Boston Symphony Children's Choir
David Ehle Guitar Trio Plus
TMC (The Mother Church) Singers
On Facebook
[[website by porchfest.info]]